Last ordering day for Dec 25th arrival is Friday Dec 15th. Orders placed after this day may not arrive in time (per USPS). We are unable to offer expedited shipping.
Questions about Sharpening Services? Click here.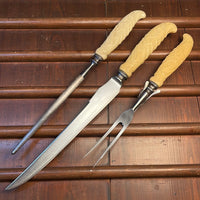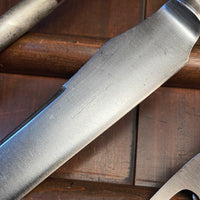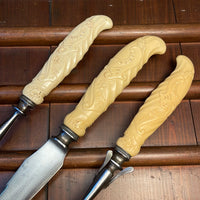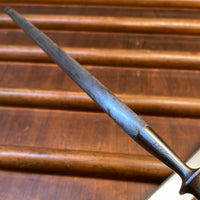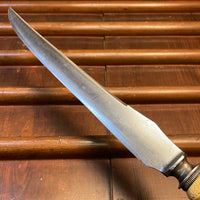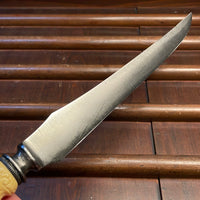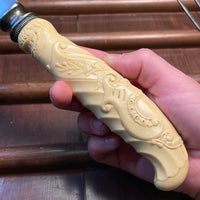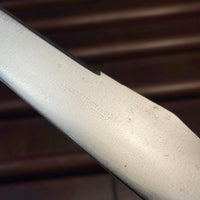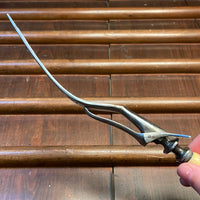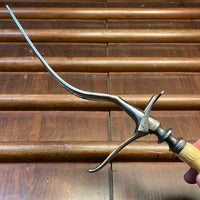 L F & C Aetna Works Carving Set Molded Celluloid & Carbon Steel
Regular Price

$112.00

Sale Price

$112.00

Regular Price

Unit Price

/

per
LF&C carving set with carbon steel blade, fork and steel with molded celluloid handles. These were a somewhat lesser priced set in their day with an economical handle 'gussied up' for Sunday dinner. The quality of the forging and grinding is good though and this blade has lots of life left, the fork is nice and straight with a springy guard and the steel is free from rust or nicks. 
There were several styles of carving knife set and table knives made with this style ornate celluloid handle from LF&C. 
This set is likely from the later half of the 19th century (long before stainless steel replaced carbon steel for table ware use) the fork has a patent date of 1886 so this was made no earlier than that but this is the patent for the fork tines and guard not the handle. 
At one point LF&C was one of the largest knife making outfits in the USA and was a huge kitchen equipment maker as well. These forks and knives typify the meeting of mass production and skilled hand work, while not their top shelf line here the grinding is excellent. 
Knife blade has 9 1/2" cutting edge 
About Bernal Cutlery
We are a full-service cutlery shop offering sharpening services, Japanese and Western culinary knives, vintage knives, outdoor, pocket and craft knives, cooking tools and accessories. We also offer knife skills and sharpening classes, and more.
We are proud to serve kitchen professionals, knife enthusiasts and home cooks alike. Located in the Mission District of San Francisco, California.