Last ordering day for Dec 25th arrival is Friday Dec 15th. Orders placed after this day may not arrive in time (per USPS). We are unable to offer expedited shipping.
Questions about Sharpening Services? Click here.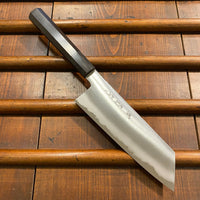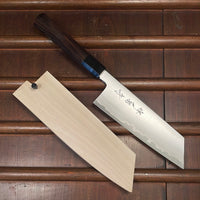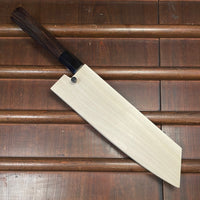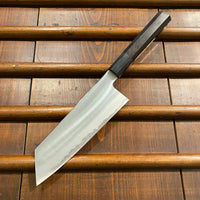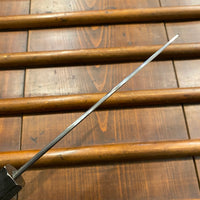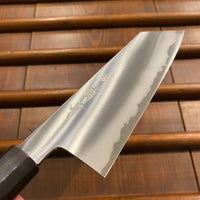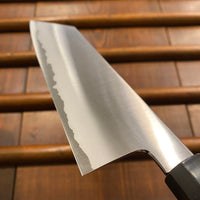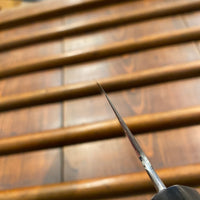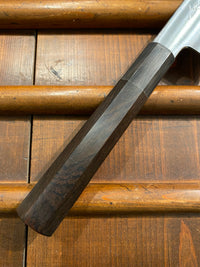 Sakai Kikumori Yugiri 180mm Kiritsuke Santoku Stainless Clad Aogami 1 Ebony with Saya
Regular Price

$435.00

Sale Price

$435.00

Regular Price

Unit Price

/

per
Sakai Kikumori 180mm Kritsuke Santoku knife. Aogami 1 carbon steel core with stainless cladding. Ebony octagon handle with buffalo horn ferrule.
Yugiri blacksmiths are from Tanaka Hamono. Tanaka-san's top level forging and heat treatments make for an unusual ease of sharpening and superb edge life and toughness.
The aogami core is not stainless (for a non-stainless steel it does rust slowly), so keep dry when not in use to avoid rust.

Sakai Kikumori was started in 1926 and draws on Sakai's 600 year history as the major center of traditional Japanese cutlery manufacturing. They work with a large variety of Sakai's best smiths, sharpeners and small factories to offer a wide variety of knives ranging from traditional materials and styles to more modern, western influenced styles and materials.
Brand: Sakai Kikumori
Smith: Tanaka Hamono
Producing Area: Sakai, Japan
Profile: Kiritsuke Santoku
Size: 180mm
Blade Type: Stainless Clad
Steel Type: Aogami 1
Handle: Ebony and Buffalo Horn Ferrule
Total Length: 311mm
Handle Length: 
Handle to Tip Length: 
Blade Height: 53mm
Edge Length: 170mm
Thickness:
Weight: 184g
Hand Orientation: Right-handed
Saya: Ho Wood
HRC: 63-64
About Bernal Cutlery
We are a full-service cutlery shop offering sharpening services, Japanese and Western culinary knives, vintage knives, outdoor, pocket and craft knives, cooking tools and accessories. We also offer knife skills and sharpening classes, and more.
We are proud to serve kitchen professionals, knife enthusiasts and home cooks alike. Located in the Mission District of San Francisco, California.