Last ordering day for Dec 25th arrival is Friday Dec 15th. Orders placed after this day may not arrive in time (per USPS). We are unable to offer expedited shipping.
Questions about Sharpening Services? Click here.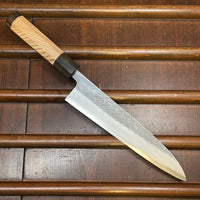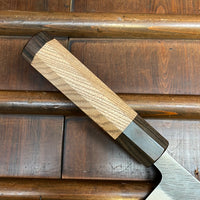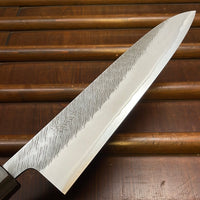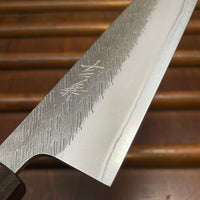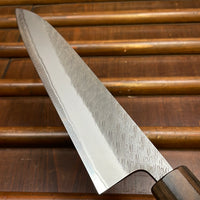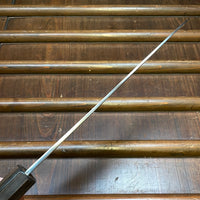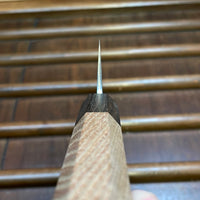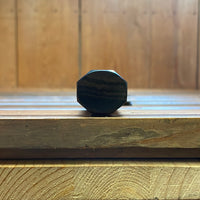 Yoshikane Hamono 210mm Gyuto Shirogami 2 Kurouchi Tsuchime Enju W Double Ebony Ferrule
Regular Price

$428.00

Sale Price

$428.00

Regular Price

Unit Price

/

per
Made for Hatsukokoro by Yoshikane in Sanjo Niigata.
Yoshikane's hand forged stainless clad shirogami 2 carbon steel with Yoshikane original pattern hammermarked finished with octagonal enju wood with double ebony ferrule handle. This is an unusual pattern of hammer mark; 
narrow angular marks that look a bit like driving rain or the cross section of blades. 
Shirogami #2 carbon steel is an excellent low contaminate carbon steel very responsive to sharpening stones, taking an extremely fine but biting edge easily. It is however a reactive carbon steel having only a tiny bit of silica in addition to carbon as it's alloy additives, there is no chromium or other alloy to slow down rusting. 
H
ardened to 64 HRC, these knives hold a keen edge for a long time, owing to thier excellent heat treatment and despite this hardness they have a good degree of toughness and are very very easy to sharpen. Being ground with a wide, kiriba primary bevel, they also allow for easy thinning down the road, especially as Yoshikane kireba grinds are especially flat.
Despite the stainless cladding on the shirogami core it should be dried immediately after use. The core will develop a patina with use, but any orange rust should be removed with a light abrasive.
Yoshikane is headed by Kazuomi Yamamoto the fourth generation to operate this family run forging and grinding operation in Sanjo, Niigata which  has been making kitchen knives since 1919. They deserve their good reputation for excellent forging and heat treatments, which make for easy sharpening and great edge life for both single and double bevel knives. This is especially true about the thin grinds provided on their double bevel knives. For middleweight Japanese knives, they cut like a much thinner blade.


| | |
| --- | --- |
| Steel Type | Stainless Clad Shirogami 2 |
| Handle Material | Ebony  |
| Weight | 167.6 grams |
| Height at Heel | 47 mm |
| Cutting Edge Length | 215 mm |
| HRC | 64 |
About Bernal Cutlery
We are a full-service cutlery shop offering sharpening services, Japanese and Western culinary knives, vintage knives, outdoor, pocket and craft knives, cooking tools and accessories. We also offer knife skills and sharpening classes, and more.
We are proud to serve kitchen professionals, knife enthusiasts and home cooks alike. Located in the Mission District of San Francisco, California.