Last ordering day for Dec 25th arrival is Friday Dec 15th. Orders placed after this day may not arrive in time (per USPS). We are unable to offer expedited shipping.
Questions about Sharpening Services? Click here.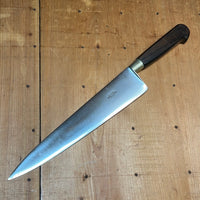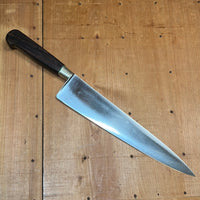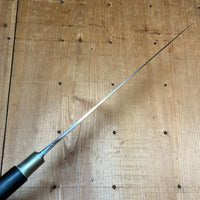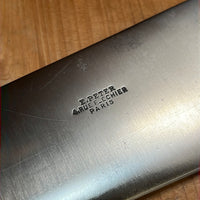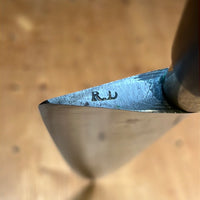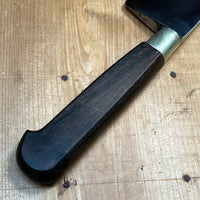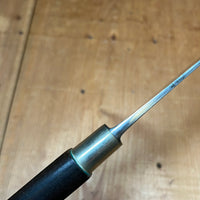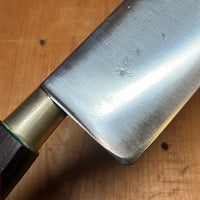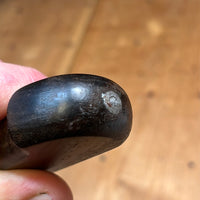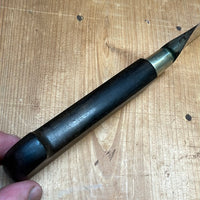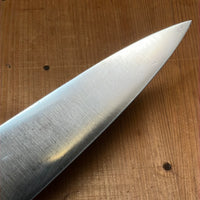 E. Peter Paris Nogent Style 10" Chef Carbon Steel Late 19th Early 20th C VGC
Regular Price

$484.00

Sale Price

$484.00

Regular Price

Unit Price

/

per
A beautiful example of the quintessentially French chef knife made for Paris retailer E. Peter at 4 Rue Fletcher Paris. Made in the late 19th or early 20th century this knife is in phenominally good condition for it's age. It had been used a little getting but amazingly never re-sharpened and then set aside for the next 100+ years untouched. It picked up a small amount of rust and a few scratches to the blade but thats it. We cleaned off the active rust with a very light abrasive and lightly sharpened the edge cleaning up some tiny nicks. 
This knife is an excellent example of the high level of skill of the independent smiths, grinders and handlers of this time period. The graceful transitions of the geometry of the blade are really exceptional, the small bolsters giving way to a slightly convex heel along with the even taper and slight convexity is really great to see. The handle (tropical hardwood, Macasser ebony?) is also in great condition, the brass brazed nickel ferrule is fitted cleanly and is in its original position. It is very uncommon to find a knife of this quality in it's original geometry, a great window into the past here.  
Nogent style knives are characterized by their one piece wood handles, with a pin-through tang and round metal ferrule. They are thin and light with small bolsters. 'Cuisine Massive' was used to describe the style in Thiers, as Nogent was a rival knife making city. There are no marks to indicate what town this knife was made it likely would have been Paris, Nogent or Thiers, a potential clue to the manufacture are the initials R.D. on the inside of the heel / bolster. 
 Check out Bernal Cutlery co founder Josh Donald's book Sharp to get a view into French knife making in Thiers and more about knife history in Europe and Japan.  
| | |
| --- | --- |
|  Steel Type | Carbon steel |
| Handle Material | Wood |
| Weight | 5.78 oz |
| Total Length | 15.25" |
| Blade Length | 9.75" |
| Blade Height (tallest point) | 1.875" |
About Bernal Cutlery
We are a full-service cutlery shop offering sharpening services, Japanese and Western culinary knives, vintage knives, outdoor, pocket and craft knives, cooking tools and accessories. We also offer knife skills and sharpening classes, and more.
We are proud to serve kitchen professionals, knife enthusiasts and home cooks alike. Located in the Mission District of San Francisco, California.