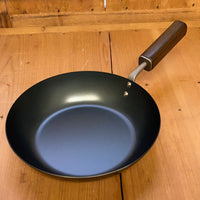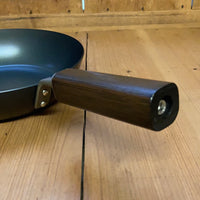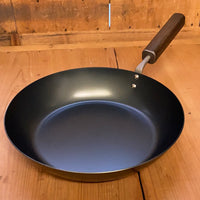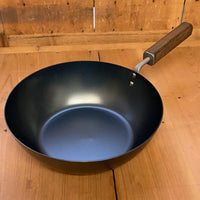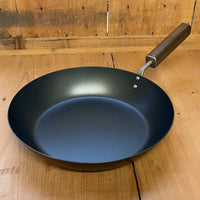 Prince Iron Frying Pan
Regular Price

$104.00

Sale Price

$104.00

Regular Price

Unit Price

/

per
Iron frying pan with bamboo handle and stainless hardware.
All models are manufactured with the patent OXYNIT and are 1.6mm thick. These pans are nitrided, which increases hardness and aids in resisting oxidation. They are then sandblasted to make the surface microscopically porous, allowing them to season themselves as oil is introduced through cooking. Iron may transfer to food in using a traditional cast iron ( good! ), and so it also does with these pans.
Because these are so thin, they're easy to handle, heat quickly, and retain heat evenly. They work for both IH stovetop and gas range and are excellent for everyday use.
While OXYNIT is used to prevent rust, these pans are not exempt from corrosion and will not tolerate mistreatment. Hand wash, hand dry and store dry, and for the love of Céline Dion, do not put in the dishwasher. Expect your pan to develop a handsome patina over time with use. You may use metal cooking tools with this pan, however know that this can cause scratching and the beneficial effect of OXYNIT to lessen.
Suggestion on how to "abura-narashi" (aka "season") this iron pan:
For the initial first month of use, taking these steps will prevent burning.
1) Heat pan until well heated
2) Put as much oil as would cover the bottom, heat on low for about 3 minutes while allowing oil to spread around. At the first sign of any smoke, stop heat and take oil out.
3) Take a paper towel and rub in the remaining residual oil into the pan.
After use:
While pan is still hot, wipe away gunk with paper towels or other material.
Take a tawashi and rinse with water, dry well and store.
Be careful not to heat the pan without anything in it, or let it get too hot. This can cause warping. Take out any food you have cooked in it, do not store inside the pan for a length of time.
Made in Tsubame Sanjo, Japan.
About Bernal Cutlery
We are a full-service cutlery shop offering sharpening services, Japanese and Western culinary knives, vintage knives, outdoor, pocket and craft knives, cooking tools and accessories. We also offer knife skills and sharpening classes, and more.
We are proud to serve kitchen professionals, knife enthusiasts and home cooks alike. Located in the Mission District of San Francisco, California.