Last ordering day for Dec 25th arrival is Friday Dec 15th. Orders placed after this day may not arrive in time (per USPS). We are unable to offer expedited shipping.
Questions about Sharpening Services? Click here.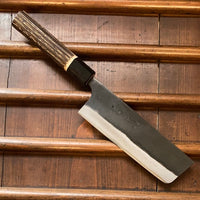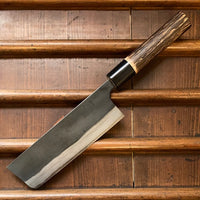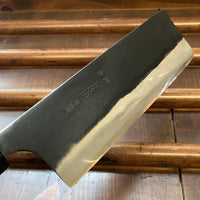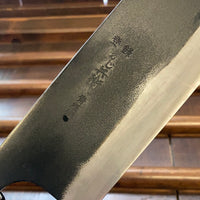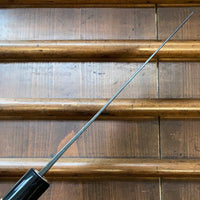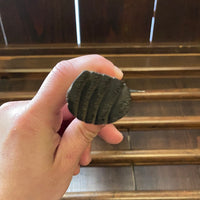 Kaji-bei 165mm Nakiri Iron Clad Aogami 2 Suminagashi Kurouchi Buffalo Horn Ring
Regular Price

$178.00

Sale Price

$178.00

Regular Price

Unit Price

/

per
Kaji-Bei knives are forged and ground in a small workshop behind the smith's house in Sanjo Niigata. Ishikawa-san specializes in smaller knives with a good portion of the makiri (fisherman's knives) used in Japan coming from his small workshop.
Ishikawa-san's knives have a distinctive Sanjo accent with their thick spines and generous proportions. Bei-san's work is very consistent, evenly forge drawn thin blades and clean grinds. Dare we call his shirogami 2 a poor man's Shigefusa?
This knife has a hard carbon steel core with iron cladding for added durability. The entire blade will develop a patina with use, especially with acidic foods. Special attention is needed to keep from rusting. Do not leave wet. Hand wash & dry, no dishwasher. Hardwood-end grain or softwood long grain cutting boards are preferred; avoid bamboo and plastic cutting boards. Rust can be removed with a light abrasive.
Steel Type
Aogami 2
Handle Material
Burnt Chestnut & Buffalo Ferrule
Weight
156 grams
Height at Heel
53 mm
Overall Length
316 mm
Cutting Edge
160 mm
HRC
About Bernal Cutlery
We are a full-service cutlery shop offering sharpening services, Japanese and Western culinary knives, vintage knives, outdoor, pocket and craft knives, cooking tools and accessories. We also offer knife skills and sharpening classes, and more.
We are proud to serve kitchen professionals, knife enthusiasts and home cooks alike. Located in the Mission District of San Francisco, California.