Our storefront will be closed Monday 9/25 in observance of Yom Kippur.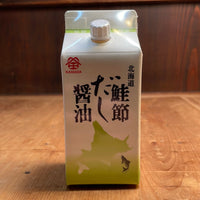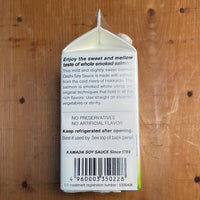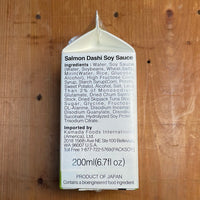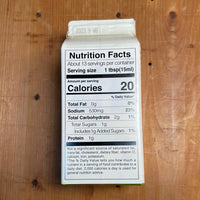 Kamada Salmon Dashi Soy Sauce - 200ml
Regular Price

$12.00

Sale Price

$12.00

Regular Price

Unit Price

/

per
A unique and highly fragrant soy sauce from a nationally recognized brand in Japan, Kamada.
Soy sauce enriched with a natural broth made from fish extracts (dried Hokkaido salmon, dried tuna) and Konbu(seaweed). This Dashi Soy has a reduced sodium content of only 11%, which is 25% lower than the sodium content of regular soy sauce.

Usage:
Straight - Pour over tofu, noodles, or Japanese Pickles. Use as an all-purpose seasoning for your cooking.

Dilute - Soup for noodles or Tempura, or broth for Japanese-style nimono, or boiled vegetables.
Dilution instructions:
Tsuke tsuyu (for dipping)- Dashi 1: Water 3 to 4
Nimono- Dashi1 : Water 5 to 7
Kake tsuyu (for pouring over noodles)- Dashi 1: Water 8 to 9
Kamada soy sauce is widely known in Japan for its excellent quality products at an affordable price point, and is often given in gift sets.
Kamada has been making premium soy sauce in the Sanuki region of Japan since 1789, the year of the French Revolution.
The district of Sanuki (now Kagawa Prefecture), on Shikoku Island in Southern Japan, was long famous for salt production. Sanuki's shoal beaches produced 80% of Japan's salt for many years. The ample sunshine and open fields were also perfect for growing wheat and soybeans. This made Sanuki an ideal region for soy sauce production.
About Bernal Cutlery
We are a full-service cutlery shop offering sharpening services, Japanese and Western culinary knives, vintage knives, outdoor, pocket and craft knives, cooking tools and accessories. We also offer knife skills and sharpening classes, and more.
We are proud to serve kitchen professionals, knife enthusiasts and home cooks alike. Located in the Mission District of San Francisco, California.