Home
|
Unknown Type
|
Kuramoto - Rolling Pins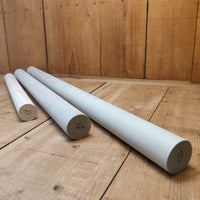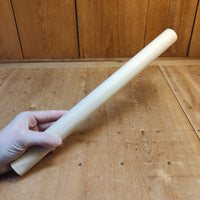 Kuramoto - Rolling Pins
Regular Price

$18.00

Sale Price

$18.00

Regular Price

Unit Price

/

per
Hand made rolling pins by Mitsuaki Kuramoto, in 4 sizes and 2 wood variations.
Small---18cm length (l) x 18mm diameter (d) Sakura wood.
Medium-- 36cm (l) x 30mm (d) Sakura wood.
Large-- 50cm (l) x 35mm (d) - Dogwood.
X- large-- 64cm (l) x 35mm (d) Dogwood.
Suggested uses:
Small-Ideal for making small items like dumpling skins.
Medium and Large- Can be used for anything from pasta, noodles, and pie crusts
X-Large-For the professional kitchen or for large amounts of cooking/baking.
Made in Japan. As these items are made from wood, they should not go into the dishwasher and should not be soaked for long periods of time.
Mr. Kuramoto and his family have been hand making wooden kitchen tools for over 100 years in Miyajima, a city infamous in Japan to produce the most wooden spatulas in the whole country. He cares most about the feel of the tool in your hand, and takes great care on every product. He uses six different types of sanding tools to get the feel just right. No two pieces are the same, and the more you use them the more they will develop "ajiwai" or "flavor". The soft smell of wood is a sheer delight to cook with, and no need to fear chemicals leaching out into your food or melting during cooking, or scratching your pots and pans!
About Bernal Cutlery
We are a full-service cutlery shop offering sharpening services, Japanese and Western culinary knives, vintage knives, outdoor, pocket and craft knives, cooking tools and accessories. We also offer knife skills and sharpening classes, and more.
We are proud to serve kitchen professionals, knife enthusiasts and home cooks alike. Located in the Mission District of San Francisco, California.