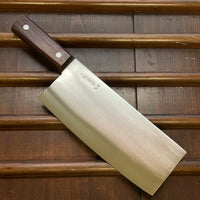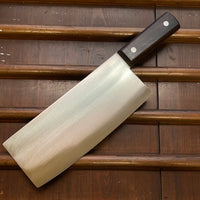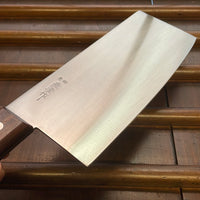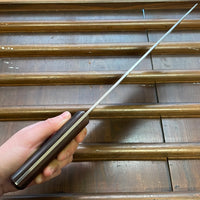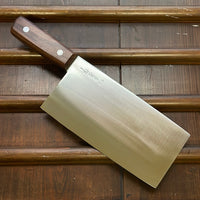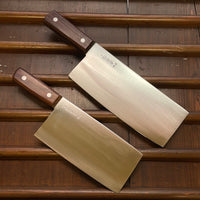 Naozumi Chukka Bocho Chinese Cleaver Carbon Steel
Regular Price

$62.00

Sale Price

$62.00

Regular Price

Unit Price

/

per
Chukka bocho or Japanese style Chinese cleaver with SK carbon steel blade and rosewood handle, great for vegetables and boneless meat. While the term 'Chinese cleaver' is used for this general style of knife "Chinese chef knife' might be better as these are not heavy like a butcher's cleaver and are not suited for hitting bones.
Thin SK mono-steel blades cut very nicely with their thin profile and are super easy to sharpen and get a nice edge that holds well. They are ideal for the professional or home cook who is looking for a great workhorse with easy sharpen-ability.
Sometimes among comparisons of Japanese carbon steels SK family steels are viewed as inferior to more refined shirogami or aogami however when making single steel knives SK has its advantages. SK steel rusts slower than many other carbon steels like aogami or shirogami and has a good toughness which benefits a thin mono steel knife.
This is a non-stainless carbon steel, it should be mentioned that extra care is required, it should be washed and dried immediately after use. It will develop a dark patina with usage, but any orange rust should be removed with a light abrasive.
Please note, these can have cosmetic scratches or small imperfections in handles which will not impede the performance of the knife. This is par for the course on these knives and is part of how they sell them for a very reasonable price.
180mm has 180mm cutting edge, 89mm at widest point of blade 282mm overall length 286.5 grams
220mm 225mm cutting edge, 91mm at widest point of blade 335mm overall length 441.5 grams
About Bernal Cutlery
We are a full-service cutlery shop offering sharpening services, Japanese and Western culinary knives, vintage knives, outdoor, pocket and craft knives, cooking tools and accessories. We also offer knife skills and sharpening classes, and more.
We are proud to serve kitchen professionals, knife enthusiasts and home cooks alike. Located in the Mission District of San Francisco, California.