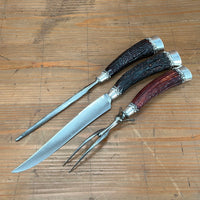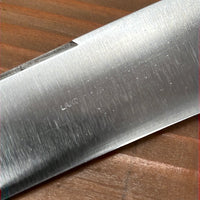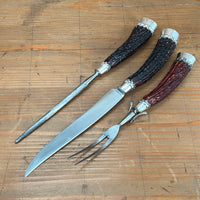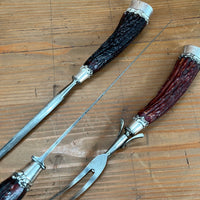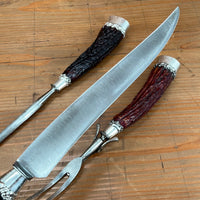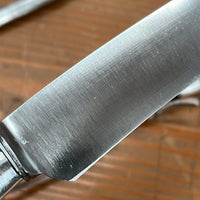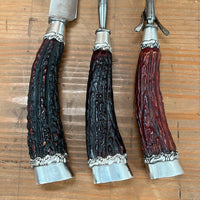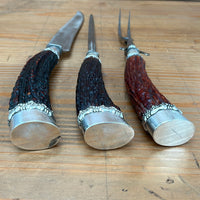 Landers Frary & Clark Aetna Works Carving Set Carbon Steel Large Sterling Ferrules Stag ~1880's-1910's
Regular Price

$212.00

Sale Price

$212.00

Regular Price

Unit Price

/

per
3 piece carving set made with carbon steel, sterling silver ferrules and stag grips. This set was made by Landers Frary at their Aetna works factory in New Britain Ct. At one point LF&C was one of the largest knife making outfits in the USA and was a huge kitchen equipment maker as well.

The LF&C Aetna works stamp was used over a long period; 1865-1965, the fork has an 1886 patent date on it but that would be the very earliest date of manufacture and is likely a bit later. It's style is more late 19th early 20th 
This knife has been re-ground and thinned behind the edge on a large 3 foot diameter Japanese water stone wheel (kaiten mizu toishi) and then resurfaced with a medium fine finish, our take on an old style grinding and finishing technique. While the particular wheel used to refurbish this knife is typically used in Japanese knife making it is very similar to the old grinding wheels used to shape European and American hand ground cutlery. A convex face to a blade greatly increases a knife's performance as there is less sticking as there is on a flat face and the blade does not get thick behind the edge nearly as fast as with a flat faced blade. Being that we are often working with old blades that need re-shaping and might have been rusted expect some minor imperfections, we try to give a fresh start to our re-ground blades with an eye towards their original grind style and keeping as much metal is needed on a blade when ever possible. Check out Bernal Cutlery co founder Josh Donald's book 
Sharp
 to see these wheels in use and more about their history in Europe and Japan. 
Like all other culinary knives this should never go in the dishwasher, carving knife handles will come loose with high heat (dishwasher, stove top etc), carbon steel can rust if left wet or dirty, expect a patina to form with use. 
About Bernal Cutlery
We are a full-service cutlery shop offering sharpening services, Japanese and Western culinary knives, vintage knives, outdoor, pocket and craft knives, cooking tools and accessories. We also offer knife skills and sharpening classes, and more.
We are proud to serve kitchen professionals, knife enthusiasts and home cooks alike. Located in the Mission District of San Francisco, California.